The Wheel of Power - New Zealand
After over a decade of DE&I reviews across New Zealand and Australia, here are some insights we've collated from our qualitative research conducted across different organisations and industry sectors.
The model below shows the in-group and out-group biases typically found in many New Zealand organisations and shows that individual characteristics that often dictate how easy or difficult it is to get ahead in these organisations. The inside of the circle reflects the characteristics we have (many of which we are simply born to), which are generally favoured by others in the organisation (especially the decision-makers). The characteristics on the outside of the wheel, reflect those characteristics that generally make it a little more difficult for us to navigate our way forward.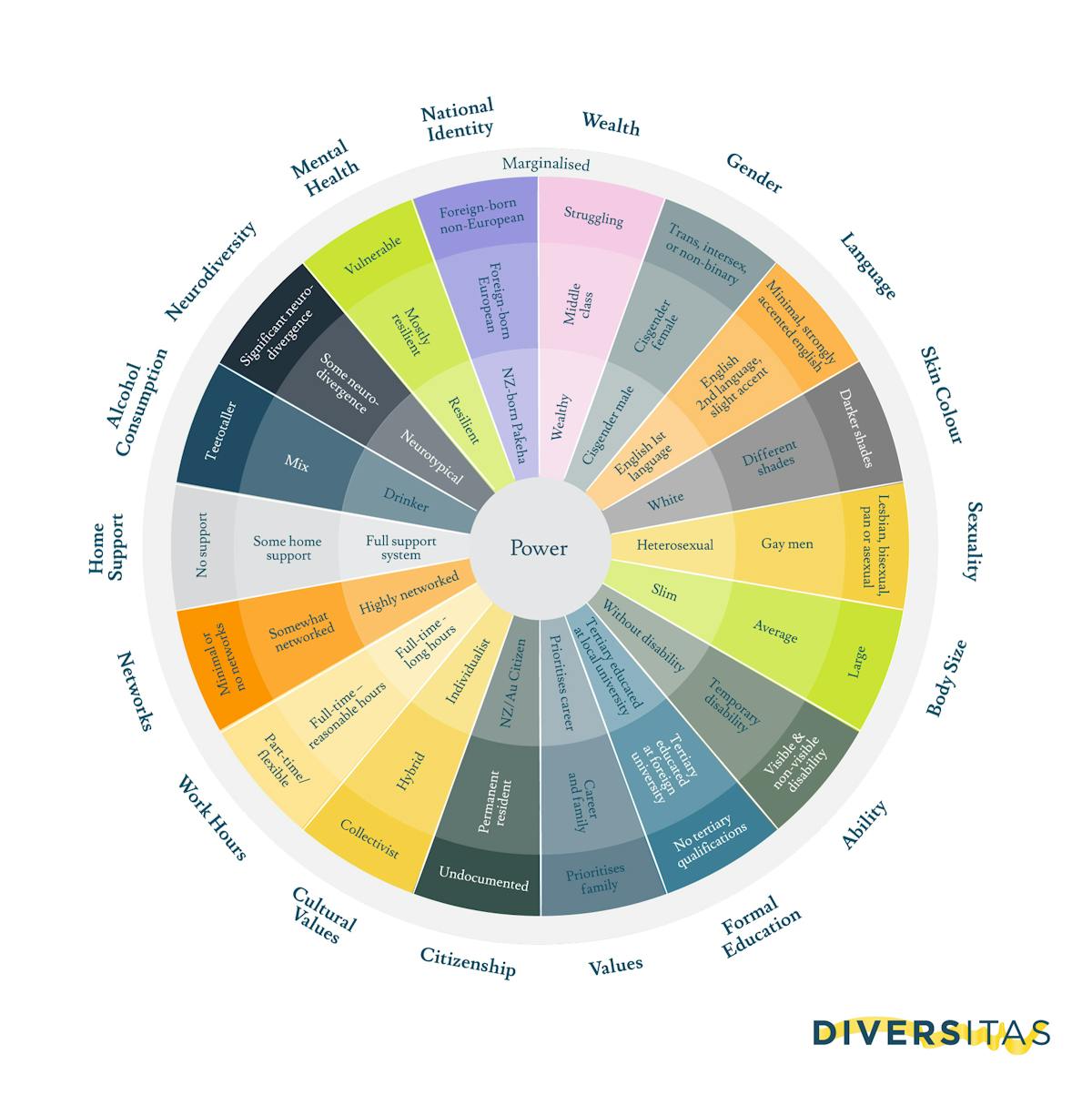 We have also noticed that these characteristics appear to be interdependent – that is to say, it is the combination of a number of characteristics that give us an experience of preferential or prejudicial treatment and dictate the 'felt experiences' we have.
The consistency we find is remarkable, which suggests that there are a number of 'societal biases' that are inherited by our organisations, many of which decide for us the level of access we have to career progression, development and opportunities across that organisation.
By recognising the societal biases that create opportunity for us, versus those that don't, we can begin to understand the experiences of others in our organisations. For example, understanding that someone who is able bodied, will have a very different experience from someone who has a significant disability, helps us to understand that in order to create equitable outcomes for everyone in the workforce, we need to implement strategies to even the playing field.
Being in the middle of the circle is not itself an issue – after all, privilege is in itself not a dirty word – however, by recognising our own privilege, we also have accountability to be agents of change. After all, it is those with influence and decision-making authority who are most equipped to effect positive change in our organisations.
While organisations by their nature inherit these societal biases, it doesn't mean that we are powerless to mitigate them. Let's recognise the agency and opportunity we have to effect the change we would like to see in our organisations. It starts with recognising the imbalances exist in the first place, and understanding the role and accountability we all have to be agents for that change!
Does this look familiar in your organisation?